Spanish National Honor Society (Sociedad Honoraria Hispánica) (SNHS) is academic honor society focused on Spanish language excellence in secondary education.  The group which was established in 1953 in the United States is sponsored by the American Association of Spanish and Portuguese (AATSP). 
The chapter at West high began when the school opened in 1972.  Annually, at the end of April, SNHS has a ceremony in the media center to honor newly inducted initiates.
Every SNHS chapter throughout the United States is named after a famous person who has positively influenced Spanish culture and language learning. The West High Chapter is named Gabriela Mistral.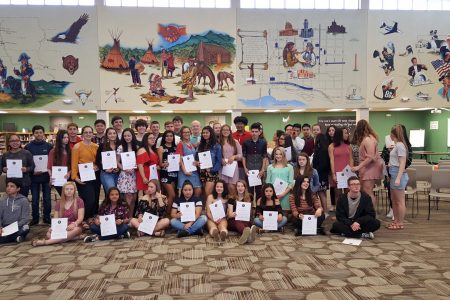 Membership Requirements:
The requirements to be inducted into the SNHS are:  to be in Spanish III or above, to have three semesters of an "A" grade in previous Spanish classes, and to have a cumulative GPA of 3.0 and above. 
West High 2020 Initiates
Estefany Alegria

Briar Bottjen

Rosario Chaclan

Mercedes Cisneros

Tayden Fairbanks

Aldo Grijalva

Pablo Guitierrez

Nathaniel Marbley

Payton Monroe

Abigail Nelson

Hang Nguyen

Virginia Olivares

Matthew Pauling

Mila Vermilyea

Andrea Alcarez

Joanna Blanco

Reymundo Gonzalez

Jordan Krei

Juan Maeda

Cristian Muñoz De Anda

Mindy Myers

Jacquelyn Nguyen

Dontiya Skelton

Landin Barker

Payton Hunter
Martin Jimenez Alcala

Cameron Johnson

Syrell Patten

Gisselle Ayala Garcia

Daniella Campos

Gabrielle Comstock

Bryan Cruz

Michael Duax

Emmett Ellis

Madison Evans

Madilyn Ford

Colin Houts

Phuong-Anh Huynh

Reid Jansen

Mason Jelken

Christina Mihelakakis

Betzabe Muñoz

Lizeth Quinonez

Gracie Roberts

Yesenia Montes

Gustavo Orellana Santos

Andrea Vazquez

Jessica Olivares-Morelos

Emily Persinger