West High School is proud to offer orchestra. The Iowa High School Music Association sanctions our high school orchestra festivals and events. The West High orchestra has been steadily growing in numbers over the past 15 years. Through involvement in orchestra, students learn valuable life skills including teamwork, concentration and focus, and confidence.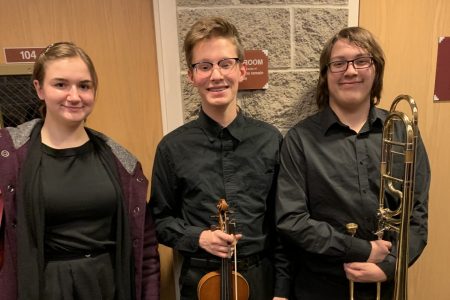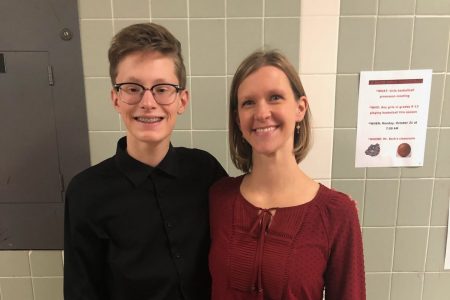 Events
Madrigal Dinner – The West High School choir department puts on an annual Madrigal dinner—which has been in existence for nearly 40 years. The choir department collaborates with the West High drama club and the West High orchestra in order to make this event a success!
USD Symphonic Clinic – Each year, the USD's Symphonic Band and its directors provide a clinic for nearly 300 high school musicians. Students perform for the college musicians who give them tips to improve their playing.
Annual WHS Symphonic Orchestra Concert – The West High full symphonic orchestra puts on an annual concert featuring various wind, brass, and percussion players from the West High band.
Sioux City Symphony Orchestra Principal Players Program – Middle and high school students who participate in the Principal Players Program receive additional instruction and guidance from the lead string players of the Sioux City Symphony Orchestra.
Honors Orchestras and Festivals – Students can also choose to prepare, audition, and participate in honors orchestras and festivals. These events include, but are not limited to, the Iowa All-State Festival, the Northwest Iowa Honors Orchestra, the Dorian Orchestra Festival, the University of South Dakota Orchestra Festival, the Iowa String Teachers Association Orchestra Festival, and the IHSMA Solo and Ensemble Festival.
View Upcoming Orchestra Events
Participants
Kiara Albertsen

Sophia Becerra

Emma Blanche

Haden Collett

Dakota Dawdy

Cielos Doenhoefer

Aeris Eberly

Iris Engelhardt

Antonio Ferraro

Ryleigh Fick

Nancy Flores

Jaxn Force

Marin Frazee

Vada "Otis" Garner

Easton Gelinne

Abby Hammer

Ian Ivener-Hansen

Candace Klink
Olivia Krogh

Doris Mateo

Gustavo Orellana Santos

Liam Pacatte

Anatasha Painter

Libby Patten

Adrianna Perez

Jadyn Perez

Shane Porsch

Mercedes Ramirez

Adrianna Rodriguez

Gwendolyne Rogers

Briana Stanley

Minh Tran

Jeffrey Viera Martinez

Lisbet Vigil Rodriguez

Alondra Zermeño Mendez
Honors and Awards
In 2019, the WHS orchestra celebrated it's first acceptance into the Iowa All-State Orchestra in over 15 years. Antonio Ferraro was a member of the 1st violin section in this prestigious event.
Northwest Iowa Honors Orchestra Participants  
Iris Engelhardt, bass, 2020

Antonio Ferraro, violin, 2020
Meet the Director